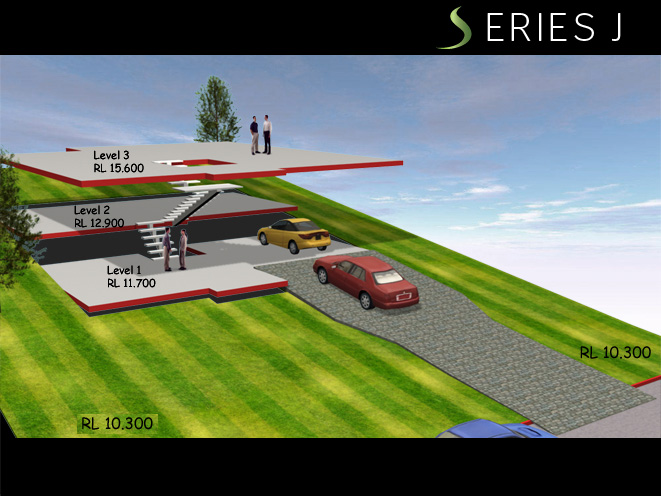 Series (J) includes the MIAMI Upslope Dsign & The Bayview MK V home design. These design are best suited for land which has a modest grade rising up above street level. The Miami can cater for up to 3m of Land Rise.
The Design - (Series J)
The Bayview MK V design takes full advantage of slab on ground (split slab) construction. The concrete floor slab to the ground floor level is formed and poured as two individual slabs. Construction includes an internal deepened concrete edge beam of 1.2m in height running from left to right across the full width of the building, dividing the ground floor into two distinct areas; one consisting of standard 8ft (2.4m) ceilings, the other with the stepped down area to the front half of the lower ground floor consisting of 12ft (3.6m) ceilings.
The attraction to this design is the elevated first floor living areas. The idea behind this being that the living areas can look down onto the backyard rather than the all to common alternative where the living areas are positioned on the ground floor with conventional ground floor living, two storey on an upwards sloping home sites. The resulting effect in living areas that look directly into retaining walls which have been introduced to retain the excavated ground level at the back of the house. This effect can make the living areas feel entombed and over towered by the elevation of the backyard.
With our series (J) concept , the depth of the rear deck to the upper floor level can be adjusted to marry with the elevated level of your back yard allowing direct access to the first floor living areas for indoor to outdoor entertaining.